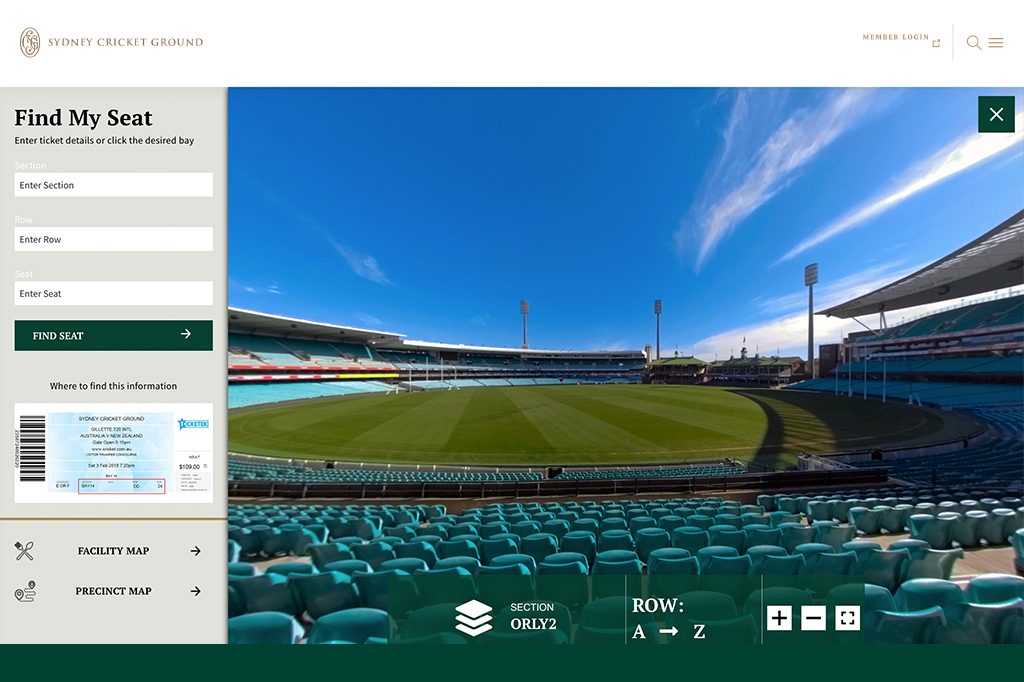 Sydney Cricket Ground Maps
BUSINESS SITUATION
The Sydney Cricket Ground Trust (SCG Trust) is in the midst of a digital transformation to improve the guest and member experience and wants to be recognised as a leader in emerging technology. SCG Trust wanted to explore ways to make their current 2D PDF maps more interactive, so it turned to Tangible to help create something unique and iconic.
SOLUTION
The Tangible team led a cross-functional ideation session with key stakeholders from the SCG Trust. With the website build already nearing completion, we had to create a solution that would seamlessly tie in with the existing tech stack.
The project consisted of three parts:
Seat View – a 360 degree view from your seat. Unlike other digitally rendered solutions, we wanted to create something as real as possible. A truly unique experience where fans could get a real look at what they would see from their seat prior to purchase, or in some cases, after. With the user in mind, we crafted two ways in which a user could access their view being a ticket search function or selecting a bay on the 3D map.
Facilities Map – How do you show hundreds of facilities on a multi-level stadium map? By deconstructing the stadium into a 3D level by level map that separates via animation, and shows the appropriate level and facilities. The first of its kind in the world. This interactive way of presenting the facilities created a rich user experience second to none. With state of the art search filtering built in, user could quickly find facilities on any level with ease.
Precinct Map – Through researching precinct maps around the world, we discovered some universities in the US that had created 3D PDF maps. This inspired us to take that one step further and create a 3D interactive map, that would allow users to move throughout the Precinct, zoom in/out and select map markers to trigger popups to show facility or POI information.
RESULT
Using an agile methodology, our delivery team worked closely with SCG Trust to rapidly prototype and build the experience, which was ready to go live for the public in only twelve weeks. Considered one of the best parts of the website, the Maps are still the most visited pages on the website, with the Seat Map being the most visited page on the site.
CLIENT
SYDNEY CRICKET GROUND TRUST
PROJECT DATE
AUG 11, 2020
TAGS
SHARE