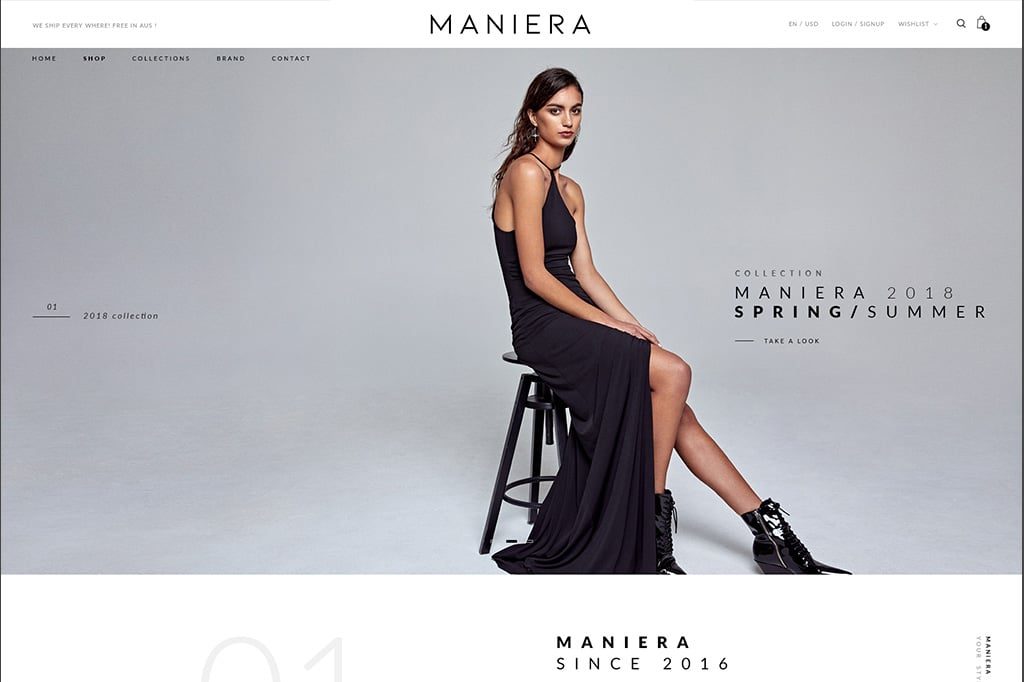 Maniera Website
BUSINESS SITUATION
Maniera is a women's ready-to-wear label that designs classic pieces for the twenty-first century woman. Founded in 2016 by creative director Olga Moore, Sydney-based MANIERA builds each collection around a specific concept that evolves from season to season. With no Bricks & Mortar store, Maniera solely relies on their own website and other online marketplaces to sell their garments. Tangible was tasked with creating their entire digital ecosystem.
SOLUTION
Tangible started by leading the client on a UX discovery Journey. We mapped all customer touch-points, and created a digital marketing plan, selected platforms and channels to execute a seamless system that would help to automate various touch-points and ultimately lead to higher conversion rates.
The project consisted of four parts:
eCommerce Website – We focused on making the overall experience as intuitive and self-serving as possible. We came up with a better overall experience in presenting and exploring products and made it pleasurable and easy to navigate. Focusing on the UX, we researched user behaviour, and designed the site to convert. Everything from having a shipping calculator on the product page, an automated delivery calculator that would inform users of when they would receive their goods based on current hour and geo ip. A popup size guide and information about the models helped customers decide on what would fit them best. We created a streamlined checkout which was mobile optimised, and integrated with Afterpay, Apple Pay, Google Pay, Paypal, and Stripe. The site had a fully automated Online Return System and parcel tracking. Every element of the site was carefully crafted to aid in higher conversions from having features such as a wish-list, multi-currency selector, delivery calculator, ajax cart, action animations, and much, much more. The number 1 priority was that the site had to be mobile first. With over 60% of sales coming from a mobile device, we focused our efforts on designing a mobile first website that loaded fast, and was extremely easy to use on mobile.
Email Marketing – We developed an entire series of HTML Emails all focussed on enhancing the brand and aiding in conversion. The series consisted of; ecommerce transactional emails, abandoned cart series, newsletter series and promotional campaign emails.
Search – Tangible focused on making sure the website was Search Optimised, and that everything possible was being done to generate higher relevancy and greater organic results (which led to the brand being featured on notable fashion blogs). The second component of our approach was paid search. The Google Ads campaigns were segmented to appeal to different audiences and use unique extensions to highlight the advantages of each garment. To compete against similar brands, the benefits were clearly promoted in the ad text and extensions, including Australian made, Afterpay, seasonal discounts, and free shipping. This persuasive messaging among other strategies helped considerably in shoppers choosing this retailer over others.
Social – Targeted Facebook and Instagram advertising were launched to focus on key garments and the launch of new product lines. Advanced audience targeting features allowed us to hone in on those more likely to convert and utilising split testing further aided in creating profitable campaigns.
RESULT
The pressure was on Tangible to deliver. The success of our work would be the backbone of this business and become the largest income stream, overtaking sales from THE ICONIC online marketplace. The company wanted to move away from marketplaces which are difficult to control and take large amounts of commission. Our digital ecosystem allowed them to do this and the company now has international sales moving them in an entirely different direction.
CLIENT
MANIERA
PROJECT DATE
AUG 11, 2019
TAGS
SHARE